Mission
OWL SF focuses on critical issues facing women as they age. We work to improve the status and quality of life for midlife and older women, both within our organization and with other like-minded groups, locally, state-wide, and nationally.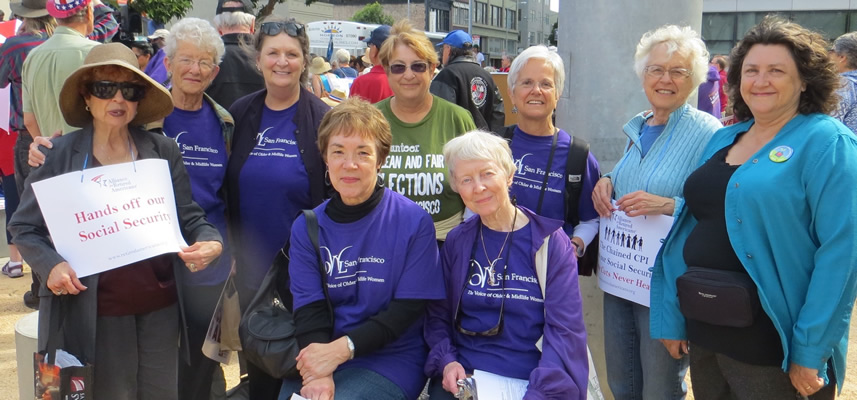 History
The Older Women's League (OWL) was founded in 1980 at the conclusion of the first White House Conference on Aging, in Des Moines Iowa. It quickly became a national organization with members and chapters all over the country. The San Francisco chapter was founded in 1981, and it continues to operate as an independent organization.
Tish Sommers and Laurie Shields, the founders, saw the need for a nationwide organization to address the special concerns of midlife and older women. They followed their motto, "Don't agonize, organize." Since then, we have created a strong and effective network dedicated to improving the quality of life for midlife and older women, through education, research, and advocacy. Our unique focus is the intersection of women's issues and aging issues.
Original priority areas continue to be our priorities today:
financial security — including Social Security, pensions, and employment
quality of life — including choice at the end of life, various living arrangements and care-giving, and
health care — access to insurance, with an emphasis on single-payer
OWL SF
We educate and advocate about financial impacts on women and are very involved with efforts to preserve and improve Social Security. We are developing programs which will improve employment opportunities for older women, and we have education programs on financial planning.
We address many of quality of life issues, such as housing, transportation, pedestrian safety, aging in place, health and nutrition, and caregiving. How to survive and thrive in the City are priorities for OWL SF.
The healthcare network requires constant attention. We have long advocated for a single payer system on national and state levels and continue to work on various programs that aim toward universal health care. We are also involved with local health care provider issues.
OWL SF Structure
We are a local, volunteer organization with a general membership. A Board of Directors is elected by the membership.
The Board of Directors has the following members:
President: Glenda Hope
Maxine Anderson
Joan Downey
Melanie Grossman
Amy Hittner
Margaret Lew
Sheila Malkind
Tina Martin
Sy Russell
Betty Traynor
OWL SF General Meetings: Usually the 4th Saturday of each month (Check calendar for details)
OWL SF Board meetings: first Monday of the month, 4:00 — 6:00 pm
Phone: 1-415-712-1695
Email: info@owlsf.org
Web: www.owlsf.org
Address: 870 Market St., Room 905, San Francisco, CA 94102
Newsletter: published quarterly; Editor: Margaret Lew